App Store Optimization Services
Boodle Web Mart has set a standard for itself by delivering app store optimization services that are notable for their high quality, dependability, and comprehensiveness. It's possible that our company can assist you in increasing the number of users who download your app. We can place your app at the top of the results discovered in the app store since we have access to many resources, technologies, and methodologies.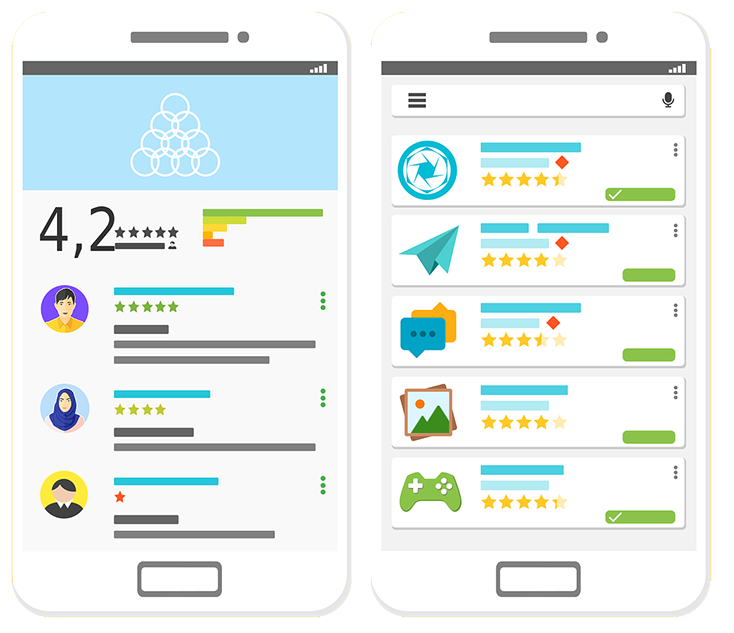 What Exactly Is App Store Optimization?
The practice of increasing the exposure of mobile applications and optimizing them to get higher ranks in the app store's search results is known as app store optimization. The more prominently your program appears in an app store's search results, the more probable it is that users who might be interested in using it will find it. Boodle Web Mart has the staff, processes, and resources necessary to help you increase the visibility of your app in the app store through our comprehensive App Store Optimization services and targeted app advertising campaigns.
Boost Your Business with App Store Optimization
It is not sufficient to list your application in the app store for it to be noticed by millions of users. To maximize the number of downloads, its ranking must be carefully considered. To succeed, one needs to comprehensively understand how app stores function; in such a case, an App Store Optimization Company can help you better. 
To see a return on investment, you must do a lot of work and do it regularly. Boodle Web Mart accomplishes this through in-depth competitive landscape analysis, ongoing experimentation, and systematic implementation. The first step in our process is to conduct in-depth research of our client's commercial goals and objectives for developing their applications. 
Next, we provide the Best App Store Optimization Services by identifying our client's target audience and devising a strategy for accelerating the
development
and adoption of those applications. Regardless of the company's size or industry, we successfully expanded app distribution by utilizing this technique.
What Matters When It Comes to App Store Optimization?
Why Choose Boodle Web Mart For App Search Optimization?
A good strategy may be made more effective with the knowledge that comes from awareness of the ASO components. Our ASO Services Company uses these components to provide free organic traffic and downloads, which can then be converted into high-quality consumers loyal to the app. These components can put you further ahead of your competition in the app store rankings, and leading app store optimization companies employ them.
Boodle Web Mart can help you in the Google play store optimization. So if you want your application to be on the top search in the app store, get in touch with us as soon as possible and help your business grow. Hurry up!